Non-Uterine Research Updates-
2021: 
The role of 18 F-FDG PET/CT in retroperitoneal sarcomas-A multicenter retrospective study 
Association of PD-L1 and IDO1 expression with JAK-STAT pathway activation in soft-tissue leiomyosarcoma   (Cancer Res Clin Onc – 2020 Sep 20)  
2020:
A phase II study of pazopanib as front-line therapy in patients with non-resectable or metastatic soft-tissue sarcomas who are not candidates for chemotherapy
Georgios_Kantidakis_Presentation_ESMO2020
Guide Patient election for Resection of Sarcoma Lung metastases
Radiotherapy for Adult Soft Tissue Sarcomas of the Head and Neck
Genomic Landscape of Uterine Sarcomas Defined Through Prospective Clinical Sequencing
PharmaMar presents results of trabectedin & doxorubicin for first line treatment of leiomyosarcomas at ASCO 2020
Madrid, June 1st, 2020.- PharmaMar (MSE:PHM) has announced that the final results from the Phase II study of trabectedin in combination with doxorubicin for the treatment of patients with advanced metastatic uterine and soft tissue leiomyosarcoma have been presented in an Oral Abstract Session at the  American Society of Clinical Oncology (ASCO) Annual Meeting, that was held on May 29th to 31st, 2020.
Under the title "A single-arm multicenter phase II trial of doxorubicin (Doxo) in combination with trabectedin (Trab) given as first-line treatment to patients with metastatic/advanced uterine (U-LMS) and soft tissue leiomyosarcoma (ST-LMS): Final results of the LMS-02 study" (Abstract 11506), Patricia Pautier, MD, from the Medical Oncology Department, Institut Gustave Roussy, Villejuif, France, has concluded that trabectedin in combination with doxorubicin is an effective first-line treatment for patients with leiomyosarcoma.
The study achieved its primary and secondary endpoints, with a median Progression-Free Survival (PFS) of 10.1 months; a median Overall Survival (OS) of 34.4 months and an acceptable safety profile.
As a reference (not comparable head-to-head studies), the most recent results of other doxorubicin combinations, such as those presented in ASCO 2019 in the "ANNOUNCE" Phase III study (doxorubicin + olaratumumab), reported a median PFS of 6.9 months, and an OS of 21.9 months (ASCO 2019 LBA3)[1].
Patricia Pautier, MD, said: "Combination of doxorubicin and trabectedin constitutes an active first-line therapy for patients with uterine and soft tissue leiomyosarcoma. Results in overall response rate, progression free survival and now in overall survival are very encouraging." And added: "Results of the LMS04 trial, a randomized phase-III study comparing this combination followed by trabectedin versus doxorubicin alone in 1st-line therapy in metastatic LMS are pending."
2019: 
BRCA ½ Functional Loss Defines a Targetable Subset in Leiomyosarcoma
https://www.ncbi.nlm.nih.gov/pmc/articles/PMC6656468/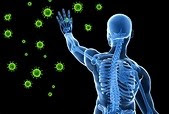 Dr. Breelyn Wilky at Univ. of Colorado Health Sciences, Denver, CO recently gave a talk on some of the research that being developed in the lab and in clinic on improving outcomes with immunotherapy in sarcomas. It's long and pretty scientific-focused, but reviews the major immunotherapy trials for sarcomas, and talks about ideas about how to move forward. View the video here.
CT imaging improves histopathological grading of retroperitoneal leiomyosarcomas
Overall survival and histology‐specific subgroup analyses from a phase 3, randomized controlled study 
of trabectedin or dacarbazine in patients with advanced liposarcoma or leiomyosarcoma
Effect of adjuvant therapy on the risk of recurrence in early-stage leiomyosarcoma: A meta-analysis.
2018:
Cutaneous leiomyosarcoma on the trunk: An unusual presentation with an aggressive course – Case report and review of literature
Dr. Lara Davis, OHSU physician, researcher  shares her research: Discovery and characterization of novel, recurrent, targetable ALK fusions in leiomyosarcoma

The result of this research provides the first validation of a targetable oncogenic kinase fusion as a driver in a subset of leiomyosarcomas. Overall, these findings suggest that some soft tissue sarcomas may harbor previously unknown kinase gene translocations, and their discovery may propel new therapeutic strategies in this treatment-refractory cancer.

Cancer research stories from Stanford Medicine and the Stanford Cancer Institute
Read about cancer research from Stanford Medicine's News & Publications
Twitter updates available @StanfordCancer
In select sarcoma subtypes, researchers determined the disease control rate (DCR) with sorafenib plus dacarbazine. They examined patients with leiomyosarcoma (LMS), synovial sarcoma (SS), or malignant peripheral nerve sheath tumors (MPNST) with up to two previous lines of therapy and adequate hepatic, renal, and marrow function. Treatment regimen for these subjects comprised 3-week cycles of sorafenib at 400 mg oral twice daily and dacarbazine 1,000 mg/m2 intravenously (later reduced to 850 mg/m2). An 18-week DCR of 46% was documented in this study. Modest clinical activity of dacarbazine + sorafenib was evident in patients with these diagnoses. Dacarbazine + sorafenib was feasible and related to favorable disease-control rates; however, this combination also increased the potential for significant toxicity. Read the full article on The Oncologist
NTRK fusion is associated with several cancers, including infantile fibrosarcoma, which can require amputation or morbid surgery when disease is locally advanced. For this phase 1/2 trial (ClinicalTrials.gov Identifier: NCT02637687), researchers enrolled 11 patients with infantile fibrosarcoma (7 patients) or another sarcoma subtype (4 patients) to receive larotrectinib followed by surgery.
"This is very exciting, but only applies to 0.1% of sarcomas.  But, it is worth looking into more.  I have seen one sarcoma with
one NTRK fusion and it was very exciting." – from Dr. Neeta Somaiah, MD, Sarcoma Research, Anderson Cancer Center.
A phase II study of tumor ablation in patients with metastatic sarcoma stable on chemotherapy
A retrospective cohort study of treatment patterns among patients with metastatic soft tissue sarcoma in the US
A prediction model for treatment decisions in high-grade extremity soft-tissue sarcomas: Personalised sarcoma care (PERSARC).
A vimentin binding small molecule leads to mitotic disruption in mesenchymal cancers
Adjuvant Therapy Does Not Improve Survival for Early Stage Uterine Leiomyosarcoma
Cancer 'vaccine' eliminates tumors in mice
Effect of neoadjuvant chemotherapy plus regional hyperthermia on long-term outcomes among patients with localized high-risk soft tissue sarcoma: The EORTC 62961-ESHO 95 randomized clinical trial
Expression and role of TYRO3 and AXL as potential therapeutical targets in leiomyosarcoma
Mocetinostat combined with gemcitabine for the treatment of leiomyosarcoma: Preclinical correlates
Soft Tissue and Uterine Leiomyosarcoma